About us
We are situated at Religious city of India Shri Amritsar Sahib.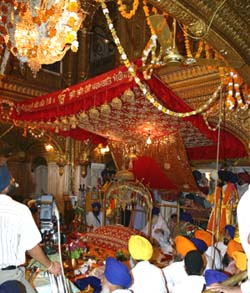 Welcome to Amritsar : Home to the Golden Temple and now a Portal for the Punjabi and Sikh community. Amritsar Literally meaning "Holy Pool of Nectar" is the spiritual and cultural centre of the Sikh Religion. The Golden Temple also known as Shri Harmandir Sahib was initiated by the Fourth Guru of the Sikhs Shri Guru Ramdas Ji and completed in 1601 by his successor Shri Guru Arjun Dev ji. This is such a spiritual embodiment of the higher being that even the Non-Believer is seduced by the Hypnotic Melody of Paath , Listen to it and all your sorrows will be washed away and you will reveal in your own inner Spirit. Oh Ye of little faith release yourself from your Day to Day suffering and embrace the true Guru listen to the immortal story of Bliss on Paath



Harjinder Singh Mattewal Rumale wale manufacturer, Retailer, Wholesaler of Rumala, To adorn his highness Shri Guru Granth Sahib Ji, A big range of Rumala Set, Chandoa Sahib, Nishan Sahib, Chawar Sahib, Spl. for Golden Temple & All Gurudwara Sahib according to your choice for order & ready stock. Bullion-Gold & Silver The Firm supported by Skilled workers in different departments like Hand Embroidery, Carving, Weaving, Stitching and other Craftsmanship with Zardozi and Precious Stones and Embellishments.
Every Single Rumala & Chandoa Sahib is personallychecked for Perfection and Satisfaction.
We are the foremost Designers have sought to present the most exceptional examples.


Infrastructure : Infrastructure backed by Sophisticated Technology and Strong manpower, we are well equipped to provide a Range that is unbeatable in Designs and Quality. Our Manufacturing unit has all required Machinery and Technology to meet the needs of clients within the Stipulated Time frame. Our Team of Specialized Tailors, Hand Embroiders and Artisans have been the strong points of our organization that enable us to cater to a large Client Base.

Customer Satisfaction : Client Appreciation has been our source of Inspiration and Motivation factor to achieve our Goals. Our Premium Quality Products and Ability to Design and Manufacture exactly as per Customer Specifications have earned us Loyal Clients. Our extraordinary Collection of Hand Embroidered Rumala Sahib and Chandoa Sahib have been appreciated and Demanded by a large number of believers settled in India and across the Globe.